After the many days of cold and beautiful snow, spring has sprung at Greenville's local garden shops - and what a welcome sight.  Goodbye snow shovels...HELLO bright colorful pots, bags of potting soil, and delightful blossoms of yellow, white, and pink! A Greenville spring is a beautiful thing, so let's go yard and garden shop-hopping.
City Shopping: Augusta Street, Main Street and Stone's Point Shopping District
Starting within the City of Greenville, your first stop has to be Roots, which is unlike all other florists. Here you'll find an "Urban Gardener's Oasis," which is the perfect place to refuel your green-thumbed soul. Roots has a great selection of perennials, herbs, and vegetables, making it a stylish, eclectic, and affordable home shopping experience! Plus, if you don't want to play in the dirt, they will pot your selections for you. Insider's Tip: Go online and sign up for the text-message coupons and you will score some fantastic deals.
Once on Main Street, there's no better way to get a taste of local garden variety than a stop at the TD Saturday Market. From your standard vegetable offerings from local farms, to more exotic choices like epiphytic bromeliads, there's something at the market for every type of gardener.
Before heading out of the city, definitely check out Urban Digs, a home décor store with a modern approach to gardening for the back porch, sunroom, or interior. You'll find a unique haven of colors, terrariums, pillows, plants, and decorative accessories that will get you in the mood for spring. Whether the birdhouse planters or the delightful terrariums speak to you, it is a must-stop shop.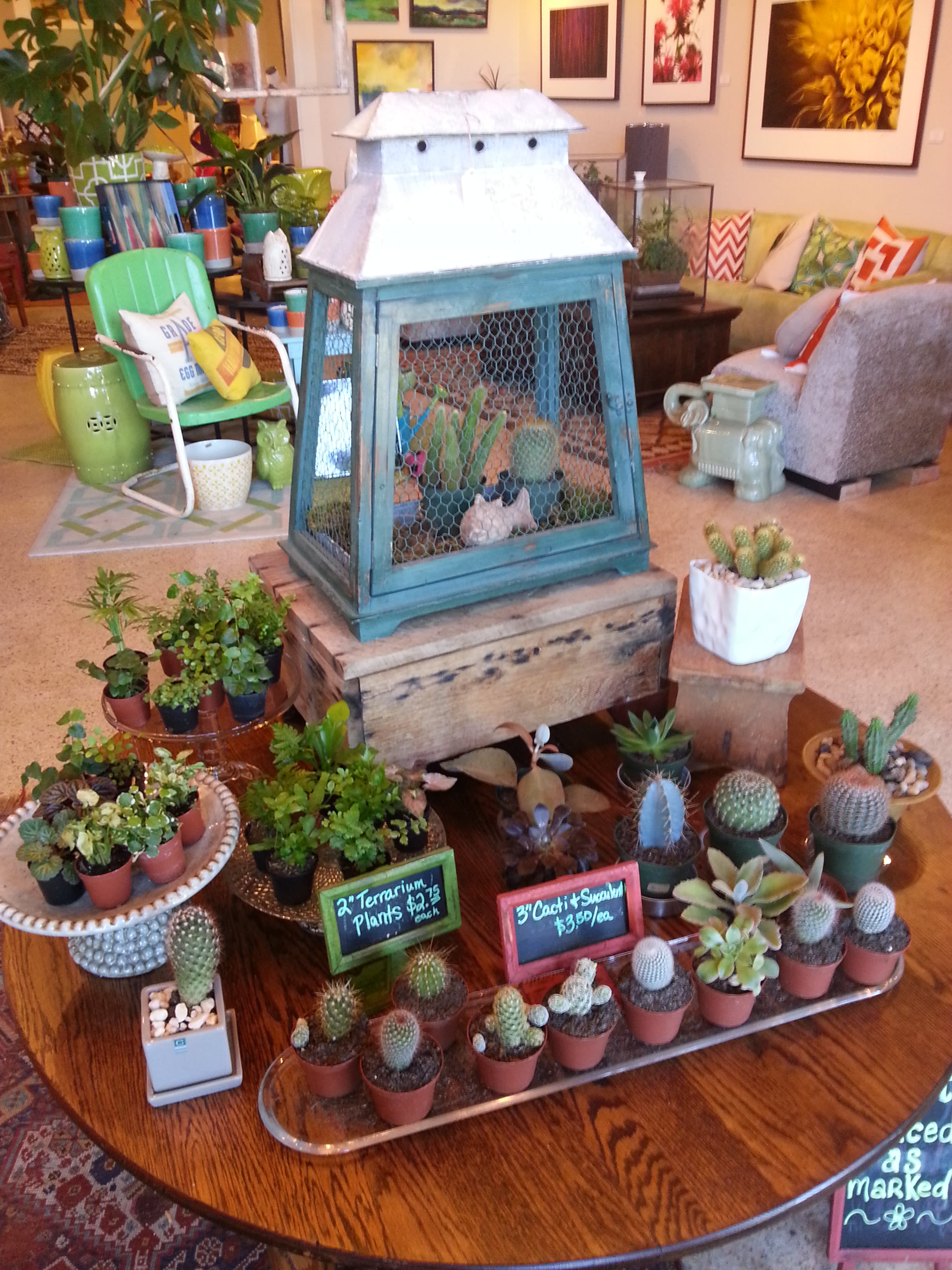 Central Shopping: Haywood and Woodruff
Time to head towards Greenville's main commercial shopping areas - Haywood Road and Woodruff Road. First up is Palmetto Home & Garden, found at the end of Woodruff Road at Laurens Road. With an almost warehouse-sized selection, this local family-owned store brings together garden décor from local businesses to national brands.
Tucked in between the big box stores, you'll also find some charming little shops for your lawn and garden. Check out Twigs near Haywood Mall - whether you need floral arrangements, planted compositions, or even a how-to workshop, you'll find it at Twigs. Insider's Tip: Hungry? Twigs has an on-site bistro, Tempietto, that is perfect for a tasty, garden lunch.
Since no yard is complete without some chirping songbirds, your best bet for bird feeders, houses, seed and suet is Wild Birds Unlimited, located on Congaree Road. With the help of their courteous staff, Wild Birds Unlimited is the place to go for your robin, cardinal, chickadee, and bluebird neighbors (and the dozens of their feathered friends). Don't forget to pick up some Bark Butter for your woodpeckers!
What outing for anything garden-related would be complete without a stop at Country Boys on Woodruff Road? Certainly not mine! The front sidewalk greets you with one of everything that you'd just love to take home: pots of earthen shades, pots that spout water, and pots that are filled with vibrant geraniums. The front is just the "appetizer" for what awaits you inside. Insider's Tip: Need some garden inspiration? Purchase your tickets to the Greenville Council of Garden Clubs' Spring Garden Tour while you're at Country Boys.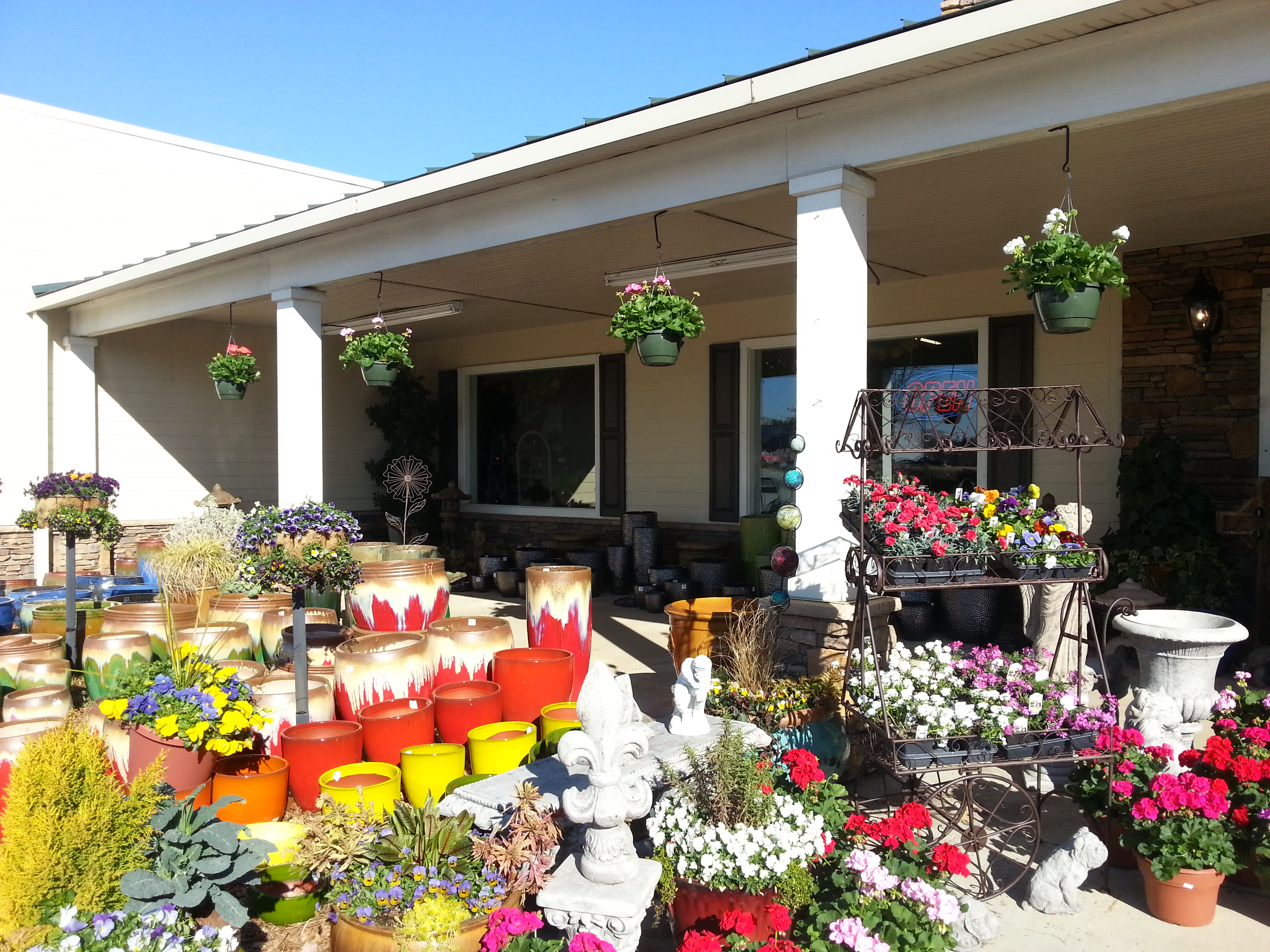 South Shopping: Downtown Simpsonville
Vaughn's Country Store, just off Main Street in Simpsonville, should be next on your to-do list. It's like taking a trip down Memory Lane, back to the time when the Country Store was the heart of the community. Let the nostalgia wash over you and enjoy the feeling of a simpler time.  Along with the early season offerings of kohlrabi, broccoli, and strawberries, there is an old-timey seed counter where seeds are still weighed by the ounce or pound. Insider's Tip: Be sure to ask for Alvin and talk to him about that secret ingredient for your garden or plants: Voodoo Juice, which is actually a type of fertilizer. Browse the large collection of Case Knives, choose some of the local organic honeys, and be sure to get a few bags of Fafard Potting Soil, made right here in the Upstate!
THAT Something Extra:
Sweet as Honey
The Carolinas produce some of the best honey ever to hit your taste buds, and now more and more homeowners are interested in beekeeping. The Carolina Bee Company, located in Travelers Rest, is the perfect place to learn more about beekeeping, purchase supplies, and to just pick up something sweet for your honey (pun totally intended).
Plant Sales Galore
Many of our local gardening clubs and organizations host spring plant sales in April and May. Keep an eye out for plant sales hosted by the Upstate Chapter of the South Carolina Native Plant Society, the Greater Greenville Master Gardeners' spring sale, the Mauldin Garden Club's Spring Fling, and the Piedmont Plant and Flower Festival, just to name a few.