Nestled in the heart of Upstate South Carolina, Greenville boasts a variety of sustainable farmers and urban gardeners as seen at the ever-popular TD Saturday Market in downtown Greenville. As interest in and demand for local foods continues to grow, Greenville is reconnecting with its agrarian heritage and the number of small, sustainable farms steadily increases. Once Greenville launches into spring and summer, grab your sneakers, a cooler, and your car keys for a day of local farm-hopping!
Morning Stop 1: Red Fern Farm
Red Fern Farm is a family-owned and operated farm located in Gray Court, South Carolina, about 30 minutes south of Greenville on I-385. Opened in 1996 by Clark and Katherine Mizell, the 100 acres that comprise the farm have evolved from clear-cut woods and bare red clay into lush gardens, rolling pastures, and mature hardwood forests. Their daughter, Meredith Mizell, is now the farm manager, bringing her passion for herbalism to the farm's operations. Mizell family members are regulars at the TD Saturday Market, where they are known for Katherine's fresh herb focaccia bread and Meredith's handmade herbal salve.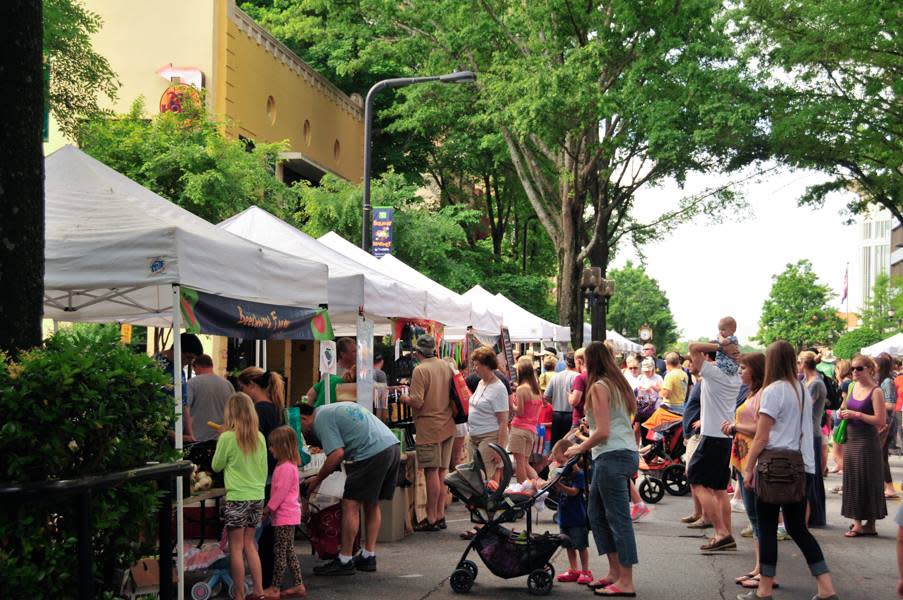 Red Fern Farm is not certified organic, but they follow organic practices and do not use synthetic fertilizers, pesticides, or herbicides on the farm.  Visitors are welcome to take a self-guided tour of the farm during weekend retail hours or schedule guided tours led by Meredith.  Before you plan your visit, check out their website for retail hours and visiting information. In addition, Meredith offers a variety classes, both on- and off-farm so this is great resource for learning how to grow vegetables and herbs at your own home garden. Insider's Tip: Meredith offers a FREE herb walk three times a year. This is a great opportunity to see, smell, and taste the plethora of culinary, medicinal and aromatic herbs grown on Red Fern Farm.
Morning Stop 2: Greenbrier Farms
Greenbrier Farms is a wonderful farm, located just over the Pickens County line in Easley, South Carolina. Though not certified organic, they follow organic practices, just like Red Fern Farm! Greenbrier's protein and vegetable Community Supported Agriculture (CSA) is extremely popular and sells out quickly each season. CSA is a growing new trend in agriculture in which farmers sell directly to consumers, thus forming a unique community and partnership. Insider's Tip: Greenbrier Farms is the primary supplier of grass-fed pork for all Whole Foods grocery stores in South Carolina. In addition to their lush vegetable garden and rolling hills of pasture, Greenbrier Farms boasts an idyllic barn house overlooking the farm, which is a local favorite for weddings and private events. In addition, Greenbrier Farms hosts regular farm-to-table dinners with local chefs and breweries.  During the regular season, Greenbrier has an on-farm store where you can purchase their proteins and vegetables.  And to schedule a tour, e-mail Amy Bishop for hours and pricing. Insider's Tip: Greenbrier Farms hosts an annual plant sale in late April, which is a great place to pick up organic starter plants for your summer garden.  And don't miss out on their customer appreciation day in May!
Morning Stop 3: Happy Berry Farm
Originally a 2,600 acre land grant from the King of England, the Happy Berry farm was founded in 1979 and first planted in 1981. Located in Six Mile, SC, near the northern section of Lake Keowee, this farmland is rich in history, with arrowheads and musket balls commonly found scattered around the farm. But more than its history, the Happy Berry is famous for its wide variety of tasty blueberries and blackberries. The Happy Berry is a regular vendor at the TD Saturday Market, but is also open during the summer and fall for you to pick-your-own (PYO) berries. The Happy Berry grows a wide variety of fruit, including blueberries, blackberries, elderberries, grapes, muscadines and figs, so no matter your tasting preference you are sure to leave happy.  Insider's Tip: The Happy Berry has an electric car charger and bike racks for the low-carbon travelers. And don't miss the "Sin Bucket," where pickers can pay dues for berries eaten in the field. All contributions are donated at the end of the season to a local charity. And don't forget to visit the Happy Berry website before your visit for a free coupon.
Afternoon Stop 1: Roper Mountain Science Center Living History Farm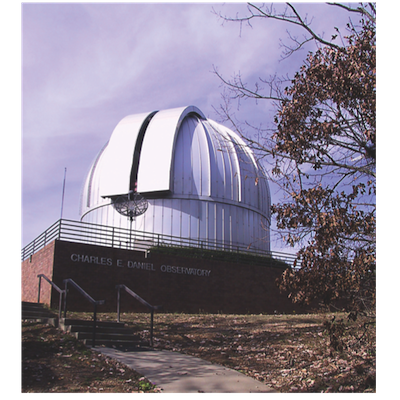 Time to head back into town! One of the hidden gems in Greenville County, the Living History Farm at Roper Mountain Science Center preserves South Carolina history in a unique way. Authentic log cabins, corn cribs, a barn, a blacksmith shop, a school and a former slave cabin have been reconstructed on the lower part of the 62-acre Roper Mountain site to demonstrate life in South Carolina's Upstate in the early 1800s. Gardens, fields, pasture, a farm pond, and farm animals typical of this period complete the scene; volunteers in period costumes make candles, cook, spin, weave, quilt, and care for animals as our forefathers did. In addition, the Living History Farm grows many unique South Carolina crops such as Carolina golden rice, heirloom peaches and apples, cotton and more. Operated by Greenville County Schools, the Living History Farm is a favorite field trip destination for children across the Upstate.  Insider's Tip: The Living History Farm is open to the public on the Second Saturday of each month.  Don't miss out on the Blueberry Festival in July or Fall Harvest Festival in November!
Afternoon Stop 2: Swamp Rabbit Teaching Garden
Sponsored by Gardening for Good, the Swamp Rabbit Teaching Garden is a public garden adjacent to the Prisma Health Swamp Rabbit Trail at mile marker 31.5. Founded in 2013, the teaching garden is a community space where interested folks can learn sustainable gardening practices. The Swamp Rabbit Teaching Garden follows organic practices and teaches volunteers low-cost, sustainable practices for their home and community gardens. Gardening for Good also hosts weekly volunteer days year-round.  This May, Gardening for Good will launch the Greenville Tool Library, which will rent out garden tools to community gardens and agencies in Greenville County. Insider's Tip: Rent a bike and ride north on the Prisma Health Swamp Rabbit Trail from downtown Greenville to check out this unique urban garden.
THAT Something Extra:
Carolina Farm Stewardship Association Farm Tour
Schedule your visit to Greenville the first weekend of June for the annual CFSA Farm Tour.  With over 25 farms on the tour, this is the best way to check out Greenville's local farms all in one weekend. Gardening for Good hosts an after-party at the Swamp Rabbit Teaching Garden.
Swamp Rabbit Café & Grocery
If you can't visit any farms on your visit, but want a taste of the local food scene, visit Swamp Rabbit Cafe and Grocery, a unique bakery, café and grocery committed to local food.  Adjacent to the Prisma Health Swamp Rabbit Trail, make it a goal to ride to the café for coffee and a scone, and then head back to downtown Greenville.