This member spotlight was originally published in May 2021. 

What do you do when you see that perfect spot, naturally formed for outdoor fun in a family-friendly environment – but unavailable?

Cliff Carden knew exactly what to do. For years he had imagined campfires and sunsets, and he could almost hear future splashing and laughing as he would pass by that unique place on Old Easley Highway. The property was not even for sale, but that didn't stop his entrepreneurial mind from planning a future outdoor fun center, complete with glamping, brews, and live music.

With time, Cliff would make it happen. In December 2019, a deal was made with the former owner, and the location was secured. Cliff and Kristi Carden partnered up with Bo and Lisa Bruce, and the dream was one step closer.

Then the pandemic hit.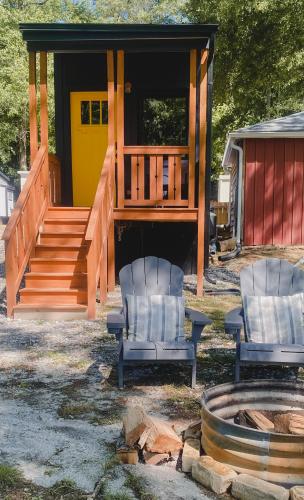 Cliff and Bo had partnered in many projects over the years, but this one proved to be the most challenging and required the most involvement. Despite complications, tubing activities were in full swing within a few months, providing a safe outdoor haven for visitors and a break from sheltering-in-place for locals.

Now, Cliff & Bo's full vision was within sight. Extensive renovations and construction resulted in several tiny houses and river pods for camping. A stunning bar top was hewn out to crown the centerpiece of the forthcoming 13 Stripes Brewery's "The River Lodge."

And here we are. The Saluda Outdoor Center now bustles with laidback activity as visitors enjoy the rushing water and beautiful views from front porches on the tiny homes (some that are A-frame homes!), glamping in a permanent camper, fishing, laughing around campfires, or camping in a river pod. Starting Memorial Day weekend until Labor Day, Cliff Carden and his team will help tubers and kayakers get out on the river to relax, play, and stay.

Soon live music will be playing on the stage and the 13 Stripes' River Lodge will be serving up good food and fresh brews.

The Saluda Outdoor Center is only a 10-minute drive from downtown Greenville, but you'll feel a world away. Book your moment of Zen today!
Visit the Saluda Outdoor Center at 1307 Old Easley Hwy, or give them a shout at (864) 777-3053.