Furman University Athletics

South Carolina's oldest private institution of higher learning, nationally lauded for its beautiful campus and exceptional liberal arts and sciences program, Furman University is equal parts brains and beauty. The Prisma Health Swamp Rabbit Trail intersects campus, which is situated on the school's namesake Furman Lake, known to locals as "Swan Lake." With Paris Mountain as a backdrop, Furman features everything from symphonic performances to Saturday night lights.
Time at "America's Best College" (No. 1 in SC and Top 5 in the Southeast by U.S. News & World Report) is time well spent, especially if one is there to watch any of the 18 NCAA Division I sports teams! It's easy to find a game on campus, where you can sit in the stands and root for the Paladins. What's a Paladin, you say? Paladins are fictional knights of legend, with the foremost members being the 12 knights of Charlemagne's court (a medieval emperor who ruled much of Western Europe in the 8th Century). Translation: Paladins are knights renowned for their heroism and chivalry. Is it possible to even get a better team name than that?!

Men's Sports
Basketball
Cross Country
Football
Golf
Soccer
Tennis
Track and Field
Women's Sports
Basketball
Cross Country
Golf
Lacrosse
Softball
Soccer
Tennis
Track and Field
Volleyball
Venues
Facilities where you can watch the sports are listed below, but here's an overview:
Football & Lacrosse: Paladin Stadium (16,000 Seats)
Soccer: Stone Stadium (3,000 Seats)
Basketball: Timmons Arena (2,500 Seats)
Volleyball: Alley Gymnasium (500 Seats)
Tennis: Mickel Tennis Center (400 Seats)
Softball: Pepsi Stadium (300 Seats)
Track & Field: Irwin Belk Complex
Golf: Furman Golf Course
Quick Facts
| | |
| --- | --- |
| School (Founded): | Furman University (1826) |
| Address: | 3300 Poinsett Highway, Greenville, SC 29613 |
| Enrollment: | 2,600 Students |
| Conference (Joined): | Southern (1936) |
| NCAA Classification: | Division I |
| Nickname: | Paladins |
| Mascot: | Knight on a Horse |
| Colors: | Purple & White |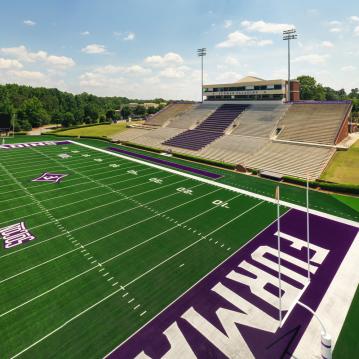 Paladin Stadium is a 16,000-seat stadium home to the Furman Paladins football team....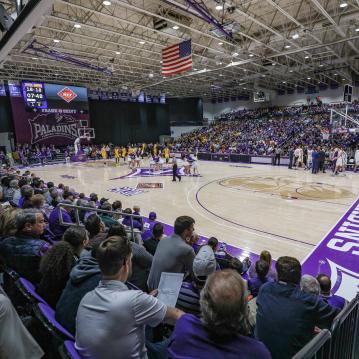 Located on the beautiful Furman University campus, Timmons Arena seats 2,500 for...