Plan Your Safe Return to Travel
Greater Greenville Pledge
The Greater Greenville Pledge is our community's commitment to health and safety of residents and visitors.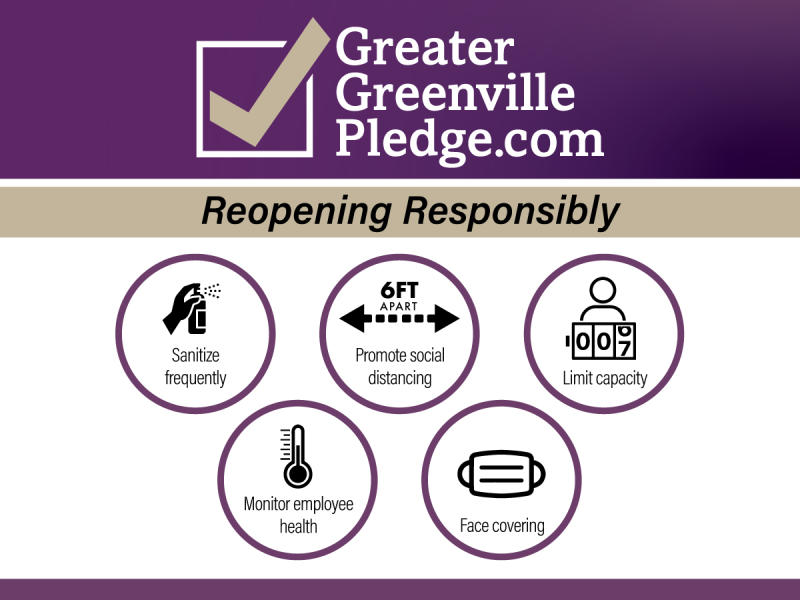 As Greenville, SC takes steps toward reopening for business, we want to ensure a safe and enjoyable experience for everyone. 
The Greater Greenville Pledge was put together by the Business Recovery Task Force, a collaboration between the Greenville Chamber of Commerce, City of Greenville, Greenville County, and the Greenville Area Development Corporation. Through the pledge, our community has made a commitment to:
Expand and increase the frequency of cleaning efforts 
Promote social distancing at all times
Limit the number of people, both inside buildings and in any outdoor spaces (if applicable)
Monitor the health of employees and promote regular hand-washing
Encourage employees to wear Personal Protective Equipment (PPE)
Bottom line?
The Greater Greenville Pledge was created to help you feel safe.
Businesses are doing their very best in these unique times to accommodate visitors as much as possible. So start planning today - Greenville, SC is here for you when you're ready to travel.
---
Healthy Travel Information
Greenville, South Carolina is normally the opposite of "social distancing." As one of the friendliest places to visit in the US, we're more likely to draw in closer for a friendly greeting with a stranger than we are to measure the number of feet between us. Folks here love getting together and welcoming new faces and we believe travel is one of the best parts of daily life. We know we have a remarkable destination worth traveling for, but the health of our residents and visitors is of utmost importance. We want everyone to feel protected and comfortable in Greenville, SC!
By taking the proper precautions now, we can get back to sharing one of the friendliest destinations in the US—with the only distance between new and old friends being a handshake or a hug.
Until then, stay up-to-date with COVID-19 and its impact on our community at the links below:
Health & Safety
Local/Regional Updates
Financial Assistance and Services Resources
Festivals/Events