Keipi
A FEAST UNLIKE ANY OTHER!

Keipi is a non-profit restaurant that offers food, wine and experiential dining from the Republic of Georgia. Where on earth is that? Georgia is a distant country tucked away in the Caucasus surrounded by mountains and monasteries, where cultivating your own grapes and making toasts to the heroes and saints of old never went out of fashion.

The First Things Foundation team fell in love with Georgian cuisine and its otherworldly hospitality, so much so that they felt responsible for bringing it back home to share with our Greenville community.

Go and try their delicious khachapuri (cheese bread), Georgian wine (from an 8,000 year-old winemaking tradition), and of course stay for a Keipi, a Georgian toasting feast that you'll fall in love with.

All available profits from Keipi go directly back to First Things Foundation to support volunteers and entrepreneurs.
Click the drop down below for
more info on this listing
General Information
Days Open:

Wednesday - Sunday

Hours of Operation:

Wed-Thur, 4-9 PM; Fri, 4-11 PM; Sat, 11:30 AM - 11 PM; Sun, 11:30 AM - 7 PM

ADA Compliant:

100% Smoke Free:

Free Wifi:

Payment Methods Accepted:

Cash
American Express
Discover
Master Card
Visa

Minutes To GSP Airport:

20

Minutes To Downtown Greenville:

6

Minutes to Greenville Convention Center:

13

Miles to Greenville Convention Center:

5

Miles to Bon Secours Wellness Arena:

2

Bus Parking Available:

Pet-Friendly:
Attractions
Parking Fee:

FREE

On-Site Restaurant/Food Service:

Outdoor Picnic Area:
Restaurant
Cuisine:

International / Georgian

Price Range:

12+

Dinner:

Outdoor Seating:

Entertainment:

Alcohol Serviced:

Full Bar:

Group Menu:

Group Buffet:

Max # Dining:

42

Take-Out: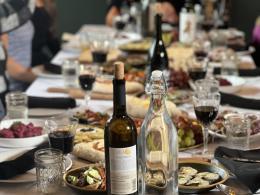 07
Feb 07 2023 - Feb 14 2023
Recurring weekly on Tuesday until Feb. 14 2023
Join Keipi for a new Georgian wine each week, a tasty appetizer style dish, some good fellowship and then a podcourse. They will, in essence, sit and talk out a philosophy...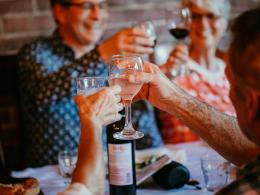 Recurring weekly on Friday
This is a dining and toasting experience like none other. Bring your spouse, friend, or go with a big group and sit with other adventurous individuals at an intimate table....