2021 AAU Karate National Championships
Greenville is thrilled to host the 2021 AAU Karate National Championships! The Bon Secours Wellness Arena (650 N Academy Street) will be home to all the action as the competitors face off for titles in their respective events.
With an award-winning downtown ranked one of "America's Best Downtowns" by Forbes, Greenville's tree-lined Main Street has boutiques, craft coffee shops, galleries, and public installations - not to mention a picturesque park with the one-of-a-kind Liberty Bridge overlooking 40-foot waterfalls. Walk to 110+ inventive restaurants ranging from traditional to global to downright eclectic (it's no wonder why Greenville was named on Forbes list of "The South's Most Tasteful Towns"...what are you waiting for? Plan your trip today! 
 
JUNE 29 - JULY 3, 2021
---


Tues 6/29 - Times TBD
Coaches & Officials Check-In
Wed 6/29 - Times TBD
Coaches & Officials Clinics
Athlete Club Check-In
Thurs 7/1 - 8am start time
KATA, KOBUDO, KUMITE - ALL 5-10
KATA, KOBUDO, KUMITE - ALL seniors 35 & up
Mandatory KATA
18-34 - Advanced KOBUDO
11-12, 13-14 & 15-17 Team KATA/KOBUDO
16 & up FLAG KATA
Fri 7/2 - 8am start time
Family team KATA, KOBUDO
Team KATA, KOBUDO, KUMITE - 8-10
KATA, KOBUDO, KUMITE - ALL 11-17
ISF KUMITE (for athletes born between 2004-08)
Collegiate Divisions - KATA/KOBUDO/KUMITE
Adapted KATA, KOBUDO
Sat 7/3 - 8:30am start time
Team KATA, KOBUDO - 18 & up
Team KUMITE - 11-12, 13-14, 15-17, 18+
KATA, KOBUDO, KUMITE - Beg/Nov/Int 18-34
18-34 Adv. KUMITE - Kilo Divisions & Open
IPPON KUMITE - 13 & up

WHERE TO STAY
Whether you're after a luxury escape, a quiet retreat or simply a place to rest your head in between the action, you'll find a variety of accommodations in Greenville to ensure that your stay is as restful as it is memorable.
---
GETTING TO GREENVILLE 
By Car
From Atlanta, GA: Take I-85 North to I-185 North (145 mi, 233 km)
From Charlotte, NC: Take I-85 South to I-385 North (100 mi, 160 km)
By Air
Greenville-Spartanburg International Airport (GSP): 
GSP's six major airlines provide over 100 nonstop daily flights from 19 major U.S. cities, and convenient one-stop service from 200+ cities worldwide.
---
VENUE INFORMATION
The Bon Secours Wellness Arena is a short walk from Greenville's award-winning downtown. Plan your visit ahead of time, including driving directions and parking, as well as nearby hotel and restaurant information. Also, make sure you know what to bring and what not to bring (insider tip: don't forget there is a no bag policy). 
CHAMPIONSHIP PARKING
Park and walk to the Arena from one of our many downtown garages! BONUS: Maximum daily rate is just $7! 
VENUE SAFETY GUIDE
Learn more about COVID-19 protocols in place at the Arena to keep you safe.
NO BAG POLICY
Click below for more information.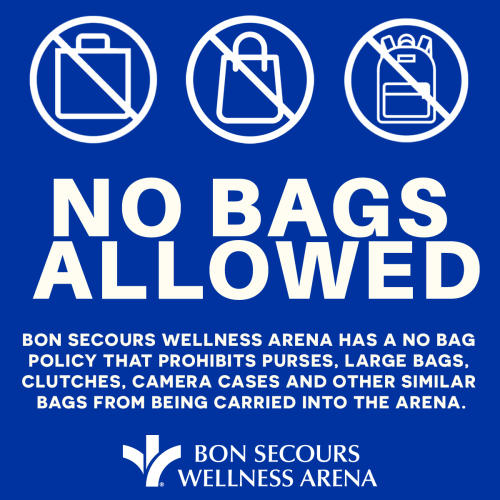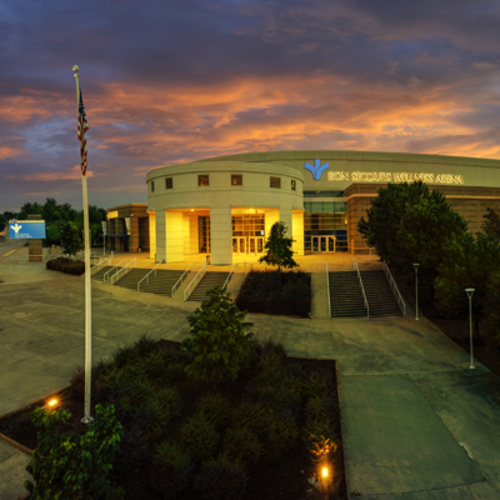 ---
THINGS TO DO IN GREENVILLE
We can't wait to welcome you to Greenville. If you need advice on what to do while you're in town, get access to digital Visitor Resources here. Or, explore specific attractions below.
LOOK BEFORE YOU BOOK - Discounts on attractions, dining and retail.
SEE WHY EVERYBODY'S TALKING ABOUT GREENVILLE, SC
Don't wait until you're hangry! Stake (steak?) out a table at one of our 1,000+ restaurants.