Greenville Triumph Soccer

Did you know that soccer is the 2nd-fastest growing sport in America? The Greenville Triumph professional soccer team began play in 2019 as a founding member of USL League One (formerly USL Division III) and they are currently the 2020 USL League One CHAMPIONS! Watch these award-winning soccer players' home matches at Legacy Early College on Greenville's Westside (900 Woodside Ave.), where the Triumph has constructed a 4,100-person stadium around the pitch. The team is led by the award-winning, National Soccer Hall of Famer, U.S. Soccer Federation Pro Coach (the highest coaching accreditation available in soccer), John Harkes. The team owners are well-known Greenville locals, Joe Erwin & William Webster.
The 2021 USL League One season kicks off Saturday, April 24th with the Greenville Triumph as the defending-title winners against the Richmond Kickers (away game); each of the league's 12 teams will play 28 matches culminating in a six-team playoff in November.
The home opener for the Triumph is on May 1 vs. North Texas SC. The following weekend, North Carolina FC will host Greenville in their inaugural match as a member of League One. In a highlight match during the busy month of May, Greenville welcomes Union Omaha to the Upstate in a battle of the top two clubs from the 2020 season. June and July are highlighted with the club's return to Gillette Stadium on July 4, where New England Revolution II handed GTSC its first of only three losses during the 2020 season. Greenville will close July with its first match against Toronto FC II since the 2019 season. In September, the defending champions will host a three-match home stretch in September against Toronto FC II, Chattanooga, and Tucson. Before ending the 2021 regular season on the road against North Carolina FC, October brings matches against Ft. Lauderdale CF, Union Omaha, New England Revolution II, and Chattanooga's Red Wolves.
Get ready to cheer on the Triumph by gearing up at the Greenville Triumph Team Store located at 22 S. Main Street in Downtown Greenville.

#TogetherWeTriumph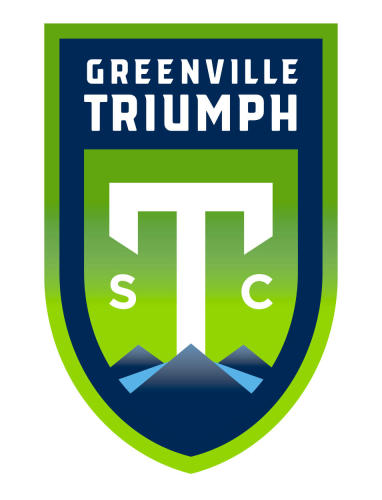 Interested in being included (or adding your photos and website) on this page?
Contact Joanne Karkkanen, Visitor & Member Services Coordinator, at jkarkkanen@visitgreenvillesc.com