Pour Houses:
Your Ultimate Guide to Greenville's Breweries
Like Beer? Here's How to Drink Like a Local in the Brewery Scene.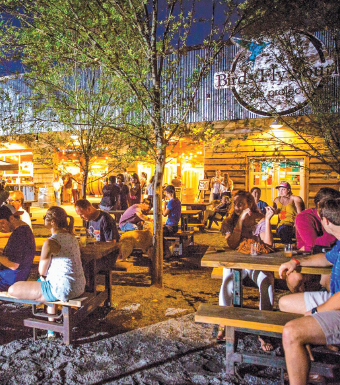 Located in the Millennial haven of Hampton Station (seriously — there's a CrossFit gym, artisanal coffee, art studios, a dog hotel, and an awesome taco joint on the premises, for starters), Birds Fly South prides itself on its old-school approach to brewing. The focus is on farmhouse/saison-style beers, with unique sours, barrel-aged specials, and funky IPAs to round everything out. Add a breezy lawn and a bunch of new friends, and you get the perfect day. 
1320 Hampton Ave Ext.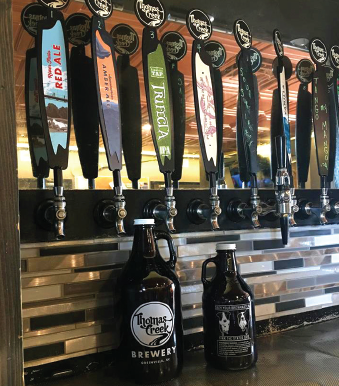 Before the craft beer renaissance hit Upstate South Carolina, there was Thomas Creek. This Greenville stalwart has been crafting beer with pristine water from the Blue Ridge since 1998, with a strong stable of ales, stouts and IPAs as well as seasonal, atypical and specialty brews. And if you seek enjoyment that goes beyond their tasting room and patio, Thomas Creek also offers supplies for the home brewer.
2054 Piedmont Hwy.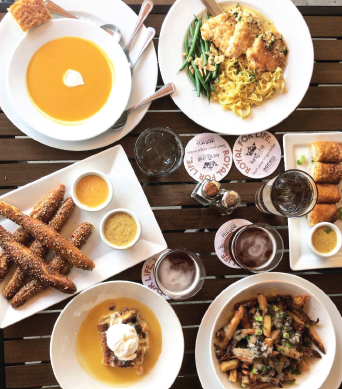 This brewery might've gotten its start in Delaware, but Iron Hill lays claim to Greenville with beers like the Upstate Kölsch, a blonde ale made just for us. With over a dozen brews on tap, an airy restaurant, inventive bar menu, and cans and growlers ready to go, this promises to be your new favorite watering hole on Greenville's Eastside. 
741 Haywood Rd.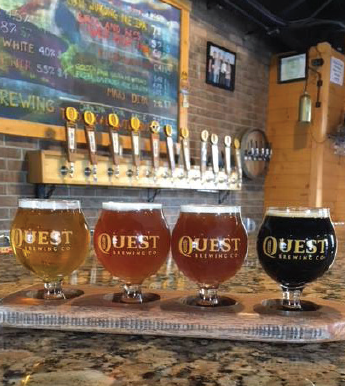 Quest Brewing Co.
Legendary beers that stand the test of time, plus quirky seasonals (like the Ponce jalapeno cucumber rye saison) have cemented Quest's status among local breweries, but a strong community focus has made it a beloved hangout. Musicians frequent the backyard stage, and a full slate of events—from food trucks to yoga classes—means there's always a good reason to come by and come back.
55 Airview Dr.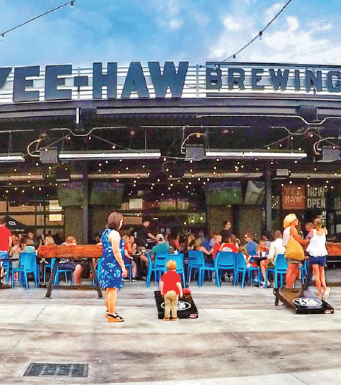 Yee-Haw Brewing Company
With a name like Yee-Haw, you'd better show up ready for fun. Located downtown just off of Main Street, this taproom is the perfect hangout for the active urban set. The World Beer Cup award-winning Dunkel (plus some delicious pilsners, pale ale, high gravity and seasonal options) and 24-hour-brined chargrilled wings highlight the eats and drinks, and a courtyard full of yard games is right outside. 
307 E. McBee Ave., Suite C.
Fireforge does not have "flagship" beers, but here are a couple of local favorites that are worth asking about if you swing by!
Spirito Santo IPA: Hoppy but not heavy, there are a ton of citrus notes amped up by bitter orange peel, while staying on the easy-drinking, lighter side of things.
The Vendetta: A Belgian Witbier with blood orange and chamomile, on tap now through the summer. It's light, refreshing and summertime in a glass!
 


Swamp Rabbit Brewery & Taproom
26 S. Main St., Travelers Rest
White Ale: A refreshing Belgian-style white ale, with notes of coriander, orange peel, and chamomile. The perfect reward for a day spent on the Prisma Health Swamp Rabbit Trail.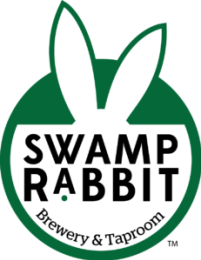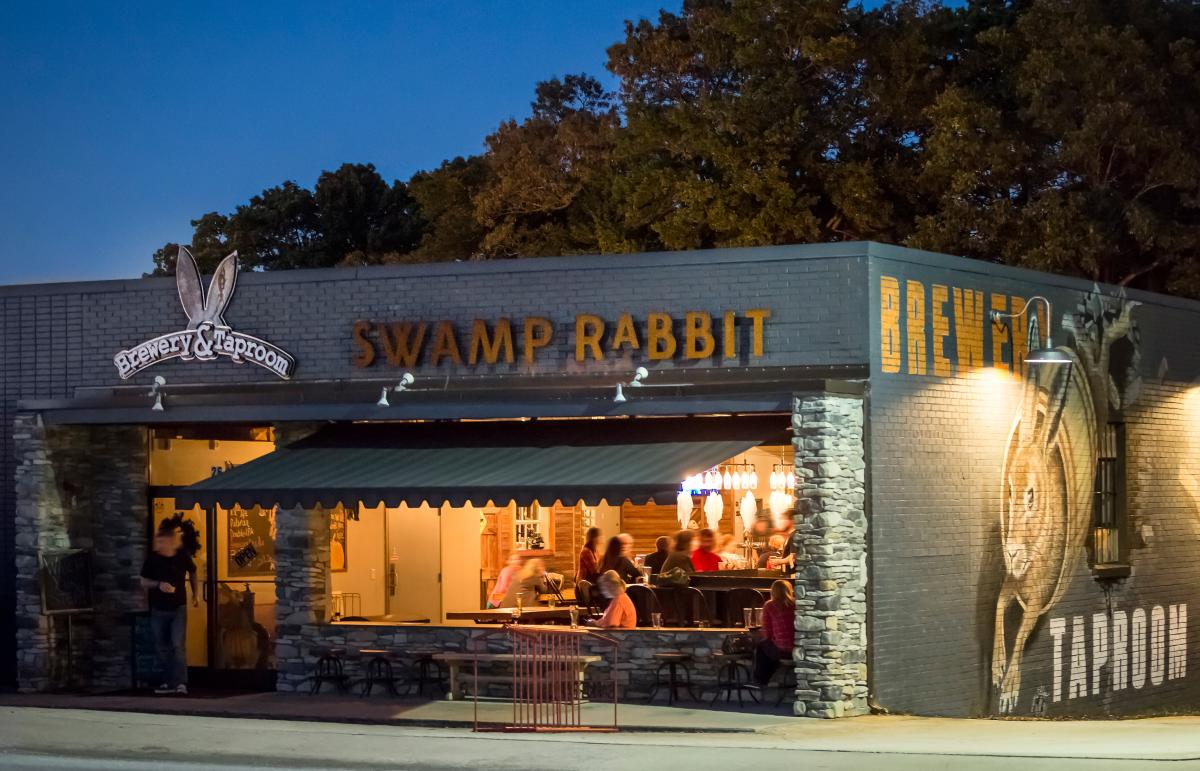 Brewery 85
GVL IPA: This one's for the home crowd. This American IPA is brewed with Warrior, Centennial, and Amarillo hops, then dry-hopped with more Centennial and Amarillo. In short, it's hoppy and punchy, but refreshing and light enough to drink all day.
Quittin' Time: A creamy, smooth Helles Bock with notes of banana and clove that's deceptively easy to drink.
Taylors Mill, 250 Mill St., Taylors
Oppose the Tyrant Rye IPA: Fruity Mosaic hops and floral Galena hops blend with earthy rye spice for balanced bitterness.


Check out some of the more recent, relocated, or forthcoming additions to the area's brewing scene:
Until recently it's been known as the Upstate Craft Beer Co., but Eighth State has been completely reimagined and reinvented. Housed in the old Claussen Bakery, this brewpub is a creative take on beer, food, and the overall taproom experience. Modern beer and cocktail offerings range from draft cocktails to beer slushies. A rotating menu, weekly Bingo, and live music round out the experience.
400 Augusta St.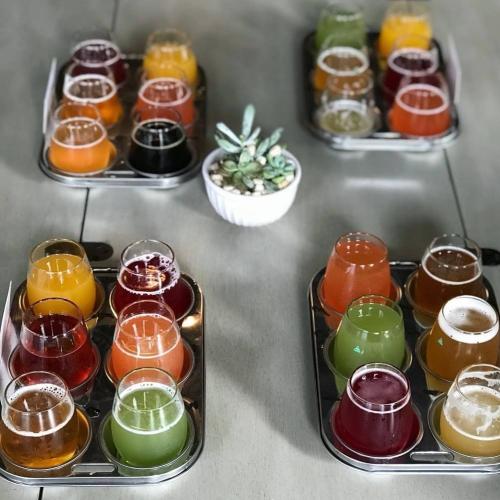 Tetrad Brewing Company
This small batch craft brewery has officially opened as of October 2019 in downtown Greenville! Co-owned by brothers-in-law John Bucher and Chad Tydings, Tetrad's 3½ barrel system produces classic beer styles with a modern twist using time-honored brewing techniques. Curious about the name? Tetrad means a group of four; a theme that can be found throughout the owners' personal lives, as well as their new-found brewing life. (Only 4 ingredients are used to make beer: water, malts, hops, and yeast.)
603 E. Stone Ave.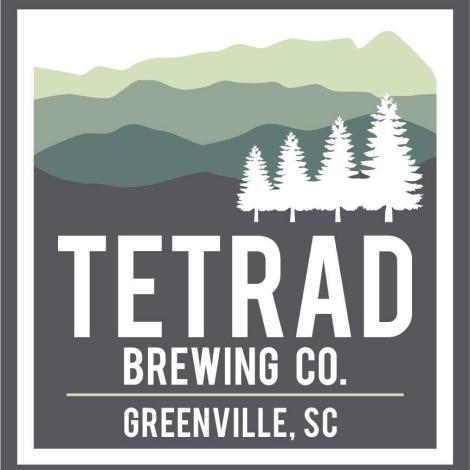 The Blue Ridge Brewing Co.
Formerly located in downtown Greenville, this well-established restaurant and brewery with delicious home brews and delectable dishes, can now be found in downtown Greer.
308 Trade St., Greer
Shoeless Brewing Co. | Grapes & Grains
Opened in August 2015, this hidden gem of a brewery is considered the smallest in Upstate South Carolina (which makes it a whole lot more intimate), but it's also the largest home-brew store in the area.
104 Mauldin Rd., Suite A
The Southern Growl Beer Company
With 60 constantly-changing craft beers on tap and some of the most Insta-worthy food to salivate over (which also changes every eight weeks), this Greer hot-spot recently opened its own brewery in addition to its gastropub—with four times the amount of indoor space + awesome lawn/outdoor space for fun events.
155 N. Buncombe Rd., Greer
Carolina Bauernhaus Brewery & Winery


Check off all 15 breweries from your beer bucket list. (Or is it growler list?)
Plan your weekend getaway now!
OPENING SOON (~Q1 of 2020), this brewery's second location (the original is located 40 minutes SW in nearby Anderson, SC) will be in the new Poe West development in the Village of West Greenville. Dubbed "Pub West," the Bauernhaus will be offering uniquely handcrafted ales, ciders, and meads. Carolina Bauerhnhaus considers itself a farmhouse brewery and locally sources its yeast, hops, fruits, and grains to pay homage to the area's rich agricultural resources. Founder Keston Helfrich also plans on integrating the regional ales into a European-inspired brewpub full of classic historic lagers and ales. In addition to the interior, one can expect 3,000 sq. ft of covered outdoor space for a biergarten and entertainment area. 
556 Perry Ave. 
Double Stamp Brewery
PROJECTED TO OPEN IN LATE 2020 and based in Holland Park, this aesthetically-awesome-looking brewery will be next door to Charleston-based Home Team BBQ and across from two shipping container restaurants! Directly on the site of an under-construction expansion of the Prisma Health Swamp Rabbit Trail, joggers, walkers, and cyclists will easily be able to make one heck of a pit stop. The half-acre Oak Tree Park (also part of the Holland Park development) features twelve 100-year-old oak trees for providing shade during the heat of summer. 
813 Laurens Rd. 
Think Tank Brew Lab
OPENING in 2020, this brewery will be one of the largest in the area at 21,000 sq. ft. and accommodating hundreds of happy beer enthusiasts. The other bonus? It's trailside—perched right along the expanded Prisma Health Swamp Rabbit Trail at The Junction at Downtown Airport and will offer grab-and-go drinks and bites to eat. There will be 20+ brews on tap as well as a full food menu, wine, coffee, and soda offerings, a stage, event space, and an expansive biergarten for playing outdoor games and other outdoor events. The concept will be similar to Sierra Nevada in Asheville, NC, which the founder/brewmaster calls "his favorite place in the world." 
101 Airport Rd.  
Nautic Brewing
OPENING in 2020, this brewery just announced its brick-and-mortar location in February 2019. Founded by two guys who met while obtaining their MBA degrees in Entrepreneurship & Innovation at Clemson University, Head Brewer Steve Schofield also went through the UC Davis Master Brewers program. Nautic Brewing plans on opening as a family-friendly establishment that makes and serves beer, wine, and craft sodas and will be located on the periphery of the future Unity Park.
101 S. Hudson St.

Can't decide on what to drink? Book your "flight" through one of these brew tours for a tasty trip.