Unity Park
Greenville's newest park features four state-of-the-art playgrounds, including a 4,100-square-foot splash pad, two expansive green spaces, covered picnic tables and a 10,000-square-foot welcome center with restrooms, a first-aid station and flexible event space. The 60-acre park also features basketball courts and a historic baseball field located on the site of the former Mayberry Park, which was built in 1925.

Three pedestrian bridges span the Reedy River, which flows through the middle of the park. The Swamp Rabbit Trail, a popular 23-mile walking/biking trail, runs along both sides of the river and the park contains five additional looped walking trails totaling 2.5 miles. For those who prefer to pedal, there are seven bike rack stations conveniently located throughout the park.

Unity Park is open daily from 5 a.m. to 11 p.m.

Complimentary public parking is available.

Unity Park can also be accessed via the Swamp Rabbit Trail from any downtown Greenville parking garage and beginning June 2, Greenlink will provide seasonal trolley service (April – September) to Unity Park via Route 903: West Greenville on Fridays from 4 to 11 p.m., Saturdays from 10 a.m. to 11 p.m. and Sundays from 10 a.m. to 8 p.m.
Click the drop down below for
more info on this listing
General Information
Days Open:

7 Days Weekly

ADA Compliant:

100% Smoke Free:

Free Wifi:

Minutes To GSP Airport:

20

Minutes To Downtown Greenville:

4

Minutes to Greenville Convention Center:

12

Miles to Greenville Convention Center:

5

Miles to Bon Secours Wellness Arena:

2

Bus Parking Available:

Pet-Friendly:
Attractions
Outdoor Picnic Area: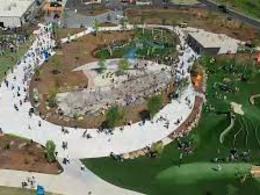 23
Apr 07 2023- Oct 29 2023
Recurring weekly on Sunday, Friday, Saturday until Oct. 29 2023
Visit Greenville's newest 60-acre green space and enjoy it's many amenities and one food vendor serving sweet treats every Friday, Saturday and Sunday in Unity Park from...