Sigal Music Museum
Sigal Music Museum's collection of hundreds of historic instruments—harpsichords, pianos, woodwinds, and more—includes a 1575 Baffo Italian Virginal spinet, a 1761 Kirkman Double Manual Harpsichord owned by Queen Charlotte, early American banjos, ornate ivory baroque recorders, a rare triple flageolet and traditional West African instruments. They hold regular concerts by diverse and renowned musicians and ensembles.

The Carolina Music Museum is now known as the "Sigal Music Museum" thanks to a generous gift of the expansive Marlowe A. Sigal Collection. The museum is a 501(c)3 organization founded by Greenville arts advocates a with a goal to create the leading center for preserving and celebrating global musical narratives. The museum resides in the only remaining building of the 1930's Coca-Cola Bottling Company. Visitors include music aficionados, students, and tourists from across the country and world.
Click the drop down below for
more info on this listing
General Information
Days Open:

Tuesday - Sunday

Hours of Operation:

10-5, Sunday 1-5

ADA Compliant:

100% Smoke Free:

Free Wifi:

Payment Methods Accepted:

Cash
Check
American Express
Discover
Master Card
Visa

Discounts Offered:

Group Discounts
Military
Senior
Youth Ages 18 and Under
Student
Other See Company Website

Minutes To GSP Airport:

17

Minutes To Downtown Greenville:

4

Minutes to Greenville Convention Center:

10

Miles to Greenville Convention Center:

4

Miles to Bon Secours Wellness Arena:

5
Accommodations
Elevators: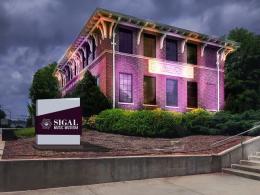 08
Jul 08 2022 - Jul 08 2022
Come out for the Grand Opening of the Sigal Music Museum's newest exhibit "Sounds of America". The event will take place on the lawn in front of the museum and will feature a...