A Note on COVID-19's Impact:
Due to the ever-changing situation in regard to COVID-19, please note that information below is subject to change. Please check with individual businesses/venues for the most up-to-date information. Thank you!
South Carolina Children's Theatre
SCCT creates high-quality theatre experiences for children of every age! On the eve of their 33rd season, this little-theatre-that-could stands ready to once again provide the best in live family entertainment to the Upstate and beyond! Enjoy a show created especially for children, and get up close and personal with the characters after every show!
153 Augusta St

Greenville, SC 29601
Click the drop down below for
more info on this listing
General Information
100% Smoke Free:

Free Wifi:

Discounts Offered: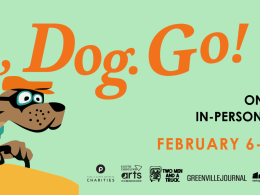 06
Feb 06 2021 - Feb 21 2021
Dates vary between February 6, 2021 - February 21, 2021
Colorful, energetic, and imaginative, P.D. Eastman's children's classic comes to life on stage, as six dogs big and little, green and yellow, up and down, bustle through their...
South Carolina Children's Theatre