Greenville Goes to the Dogs

From Maltese to Mastiffs, Greenvillians are dog-wild for their canine companions. Just take a look downtown, and you'll see pups with their peeps strolling through Falls Park on the Reedy, on Main Street, along RiverPlace, and everywhere in-between. Your pampered pet can find gourmet treats in a variety of shops downtown and beyond, and can fetch a drink at water bowls set outside many of the retailers along Main Street. When hunger sets in, the city offers more outdoor restaurant patios that welcome well-behaved pooches than you can shake a stick at, so there's no excuse not to bring your best furry friend along for an al fresco meal.

Outdoor spaces abound in Greenville, beginning with Falls Park on the Reedy, a great place to see the falls while your four-legged friend checks out all the new sights and smells. From the park, you can pick up the 22-mile Prisma Health Swamp Rabbit Trail. Beyond downtown, hiking trails thread the area's many state parks reaching north into the Blue Ridge foothills. Pick an easy, flat trail or, if you and your pup are up to it, challenge yourself to a steeper climb and take in the sweeping mountain views.

Let the pups stay with you or send your fur-baby on vacation while you're on vacation. Check out our insider's guide on where to take your dog in pet-friendly Greenville—from their own hotel to dog-friendly events, restaurants, shops, and more!


Going on vacation has a downside when it means leaving your four-legged friend behind. One way to alleviate your guilt is to book a stay for your pup at the Noble Dog Hotel in Hampton Station, located in Greenville's Water Tower District. Offering the equivalent of a five-star hotel for dogs, Noble Dog has a staff person on-site 24/7 to allay any worries you have about leaving your precious pet.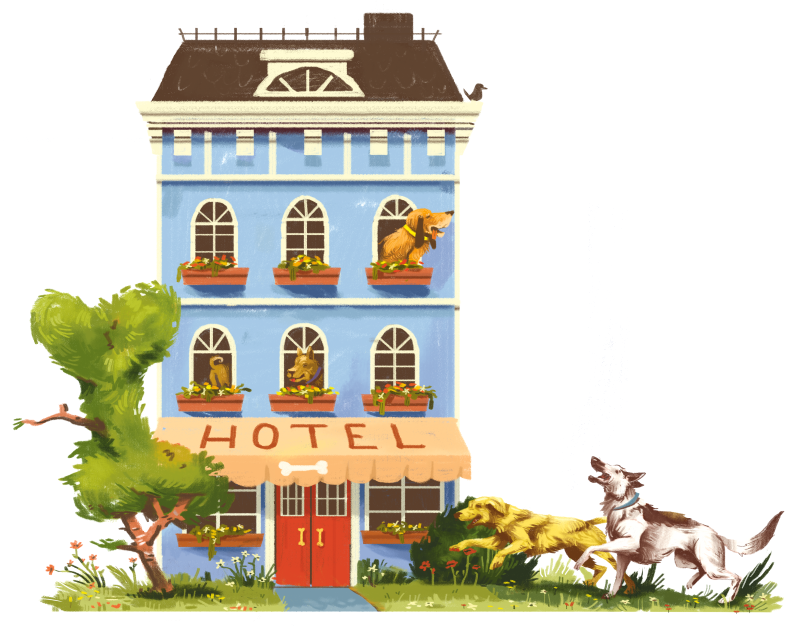 Creature comforts while boarding include a raised plush sofa bed in the junior suites, daytime playtime in the fitness center, and webcams in each private suite, so you can see what your dog is doing any time of day (there are webcams in the play areas too). Pup parents can add on luxe amenities such as chef-prepared room-service items (think doggie ice cream, a Noble burger, or a yogurt cup), one-on-one playtime, and a 20-minute walk. The ultimate in canine accommodations is the Hampton Penthouse Suite, which comes with its own twin-sized bed, a private chef, and evening story time (really!).
The Noble Dog Hotel caters to your pup with a variety of services in addition to doggie daycare and boarding. At the Noble Spa, Rover can relax with treatments ranging from a "pawdicure" to a luxury bubble bath. Noble Etiquette provides one-on-one training, either at someone's home or at the hotel itself.
All dogs are required to be current on vaccines and have a temperament assessment prior to daycare or boarding. Noble Dog will do the assessment; all you have to do is leave your dog for a free half-day at the hotel.
The open floor plan in the indoor climate-controlled fitness center allows staff to customize the play spaces (up to six of them) depending on the number and size of dogs present on any given day. Each area is supervised during playtime. If you have an older dog or one who's recovering from surgery, you can purchase a day pass that includes a stay in a private suite with slow-paced walks and one-on-one time with a staff member at no additional cost. 1320 Hampton Ave. Ext., Suite 8; 864.412.5222
Want More?
No need to beg. Dog Culture GVL is here to fetch the connections that canines (and their owners) crave – from Montessori-style doggie daycare to a spot for Fido's first (or twelfth) birthday fiesta. Dog Culture is a locally owned operation and an easy way for visiting owners to get plugged into the pooch circuit. 627 W. Washington St.; 864.558.0597.
Where Else Can Rover Sleep?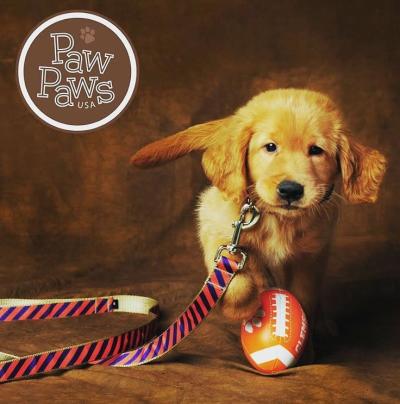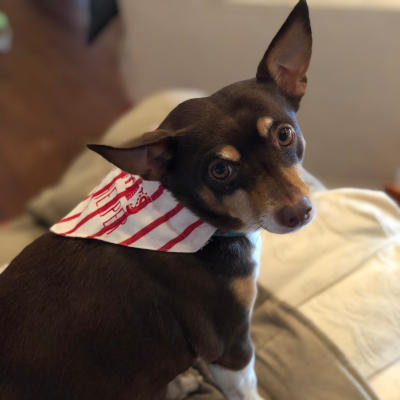 What began as a wholesale line of custom dog beds and ribbon-faced collars, leashes and harnesses, has expanded into a retail store in the West End. Drop by Paw Paws to pick up a plastic pool and some doggie ice cream for those dog days of summer. 651 S. Main St., Ste. B; 864.605.7297.
The Barkery Bistro
Find wholesome, all-natural food for your dog and cat at this family-owned pet bakery/boutique on Augusta Street. Treat your pup to a cool new collar and some organic, wheat-free, gourmet treats from the bakery case. The Barkery also offers full-service dog grooming. 2123 Augusta St., Ste. B; 864.236.1503.
Paws & Claws
Dogs and cats get equal attention at this pet store in the Shops at Capers Place. If your pup needs a quick bath and you don't have time to schedule a grooming, check out the shop's DIY dog wash. 1803 Augusta St., Ste. C; 864.242.3738.
Along with a wealth of goods for humans, Mast General sells merchandise for your pooch. We're talking toys and treats, collars and leashes, and travel and trail gear. Dogs are also welcome (and encouraged) to walk around inside the store, but must be kept on a leash. 111 N. Main St.; 864.235.1883.
Orvis
Feel free to bring your leashed dog into this retail shop on ONE City Plaza, where you can purchase pup paraphernalia along with a selection of men's and women's clothing. There's a treat jar behind the counter for good doggies.  1 N. Main St., Ste. O; 864.240.4284.
 

Yappy Hour at NOMA Square
The patio of the Hyatt Regency Greenville hotel facing Main Street, NOMA (NOrth MAin) Square is one of the largest public plazas in downtown Greenville, and hosts a regular schedule of free outdoor events. Dog fanciers favor the second Wednesday of the month (March through November), when they can bring their canine companions to the square for Yappy Hour. Live music, yummy Yappetizer specials from the Hyatt's Roost Restaurant, and complimentary pup-tinis are on tap—as is a cash bar.
Waggin' at the Waterpark
Bring your furry friend (big or small) to bid farewell to the dog days of summer with a splash!  Held the 1st and 3rd Saturday in September, there are separate play times for small and large breeds. Dogs must be at least 3 months old and have completed their first round of vaccines; proper documentation required. Discovery Island Waterpark: 417 Baldwin Rd., Simpsonville; Otter Creek Waterpark: 101 W. Darby Rd.; 864.288.6470. 
Please note that no pets are allowed at any City-sponsored events (unless otherwise indicated). This is for both the protection of patrons, as well as the animals themselves. Thank you for your understanding.

This café and grocery sponsors a multitude of community events, from family dinners to dance parties in the space outside the expanded café. And when they say "family", this Swamp Rabbit  establishment means the family dog too. 205 Cedar Lane Rd.; 864.255.3385.
Unleashed Dog Bar
Get unleashed at Greenville's first completely dog-friendly bar. Your pup can romp with his buds in the partially covered outdoor fenced play area (rules apply) while you enjoy a brew and watch your favorite team on TV. 69 Rocky Slope Rd.; 864.558.0060.
Brewery 85
Located on Greenville's Eastside, Brewery 85 goes the extra mile in making pups feel at home. In addition to allowing dogs, they host a monthly Yappy Hour ($10 fee includes beer and pizza) that benefits the Greenville Humane Society. 6 Whitlee Ct.; 864.558.0104.
*No pets are allowed at the TD Saturday Market, but they have the perfect view of it from the shady patio here, water bowls provided.
**Keep in mind, while taprooms allow dogs inside, our breweries generally limit them to the patio.

Looking for prime places to walk the dog in the great outdoors? Look no further than these lovely parks and paths.


Recreational darling of downtown, this 32-acre park claims the Reedy River Falls as its natural showpiece—best viewed by the one-of-a-kind Liberty Bridge that overlooks them. Paths connect to Cleveland Park, the city's largest green space.
A favorite of cyclists and runners, the 22-mile multi-use greenway is also a great place for take your pup for some fresh air and exercise. Follow the northern spur from downtown Greenville to Travelers Rest, and stop for an IPA at Swamp Rabbit Brewery (26 S. Main St.), where Rover is welcome too.
At the southernmost end of the Prisma Health Swamp Rabbit Trail, this wildlife sanctuary lays out more than 400 acres of wetlands, forests and trails. If Fido wants to play unleashed, the nature park contains a dog park too.
Water dogs will fancy a swim in (or walk around) one of the four lakes and ponds at Paris Mountain State Park, seven miles north of downtown Greenville. For four-legged land lovers, 15 miles of hiking trails thread the woodlands.

Disclaimer: By no means should this list of dog-friendly experiences be considered exhaustive. Many, MANY businesses in Greenville County are dog-friendly and will be more than welcoming to you and your pup. This guide just serves as a starting point to get you and Fido on your way!

Let's all paws for a moment. Because who doesn't need more cuteness in their life to make them smile?!