The Greenville, South Carolina TACO TRAIL
Let's Taco 'Bout It

Get rewarded for eating tacos! 🌮 The Greenville, SC Taco Trail is a challenge for the taco-lover in all of us. 💚 Eat some unique and delicious tacos at local restaurants and taco stands, then collect some excellent prizes.
The whole thing's pretty simple: download your Greenville Taco Trail Passport, then eat your way through the best tacos in #yeahTHATGreenville grabbing the code words from the restaurants along the way. Take a couple of days, weeks, or an entire year: you're still a winner when you cross the line and start collecting prizes.
That's right, we said prizes. Here's how it works:
Taco Stops & Featured Tacos

Featured Taco: Refried Beans & Cactus Taco
Bean Spread, Cactus Salad, Lettuce, Pico De Gallo, Queso

Featured Taco: Crispy Avocado Taco
Tempura battered avocado, sweet chili sauce, shaved cabbage, microgreens, toasted sesame seeds, Willy's house crema, pico

Featured Taco: Buttermilk Fried Chicken Taco
Upcountry slaw, honey jalapeño crema, microgreens

Featured Taco: Tacos de Camarones y Mole (Shrimp Tacos & Mole Sauce)
Asian-inspired salt and pepper shrimp tossed in Mexican mole sauce served on handmade pasilla chile corn tortilla

Featured Taco: Peruvian Shrimp Taco
Lightly fried wild-caught shrimp, sweet sesame chili sauce, topped with coleslaw

Featured Taco: Nashville Hot Chicken Taco
Crema, black pepper paste, pickles, served extra hot, hot, medium, or mild

Featured Taco: Birria Quesitacos
Shredded marinated beef stuffed inside a corn tortilla with melty cheese, onion, and cilantro served with a cup of consommé for dipping the quesitacos 

Featured Taco: Chopped Brisket Taco
Grilled corn esquites, charred poblano chili peppers, chimichurri, carrot-jalapeño salsa

Featured Taco: Heavenly Delicious Birria Tacos
Crispy birria tacos with melted cheese inside, served with a side of consommé

Featured Taco: Taco Loco
Double-layered taco filled with beef, beans, lettuce, sour cream, and cheese

People's Choice! A Mouthwatering Optional Stop
Cucho's was voted to be the best of the best in tacos by Greenville locals. Thus, they're not a required Taco Trail stop, but you'll definitely have FOMO if you DON'T stop in. Try their Grilled Cauliflower Taco: Cajun-grilled cauliflower, black beans, red radish, guacamole, and chipotle sauce best served with a side of grilled street corn topped with chipotle lime mayo, chili powder, queso fresco, and lime. 
SUGGESTIONS

The Taco Trail participating restaurants may change over time based on your feedback. Who would you like to see featured on the Greenville Taco Trail? Just remember, they have to always have the taco on the menu and be located in Greenville County. In queso you're ready to submit your Taco Trail stop suggestion, email the VisitGreenvilleSC Marketing Team.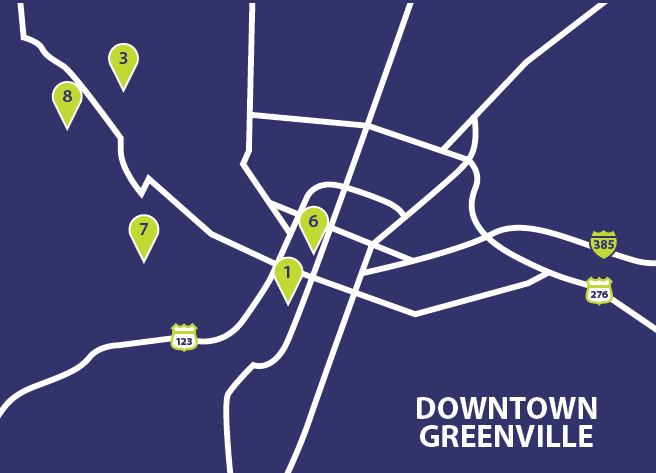 1. Papi's Tacos (RiverPlace)
3. White Duck Taco (Hampton Station)
6. Cantina 76 (ONE City Plaza)
7. Automatic Taco (The Commons)
8. Comal 864 (Village of West Greenville)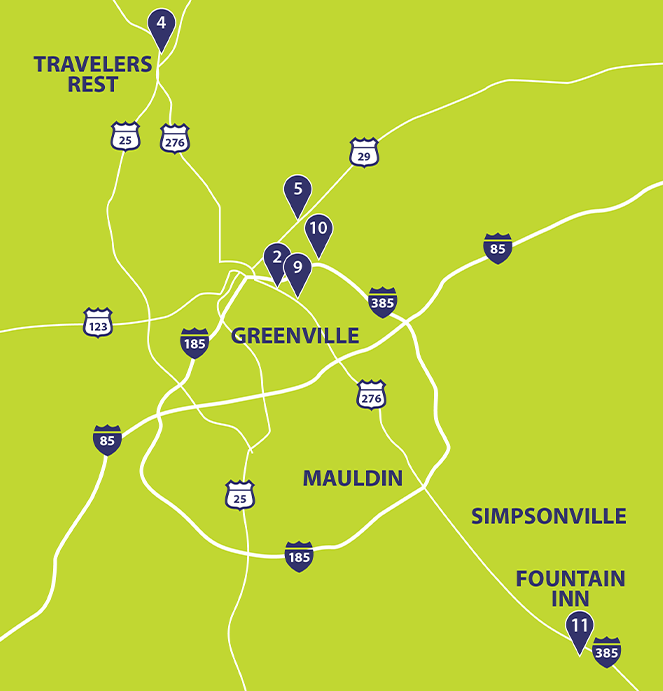 2. Willy Taco
4. Farmhouse Tacos (Travelers Rest)
5. ASADA
9. Home Team BBQ
10. Califas 
11. Garcia's Cuisine